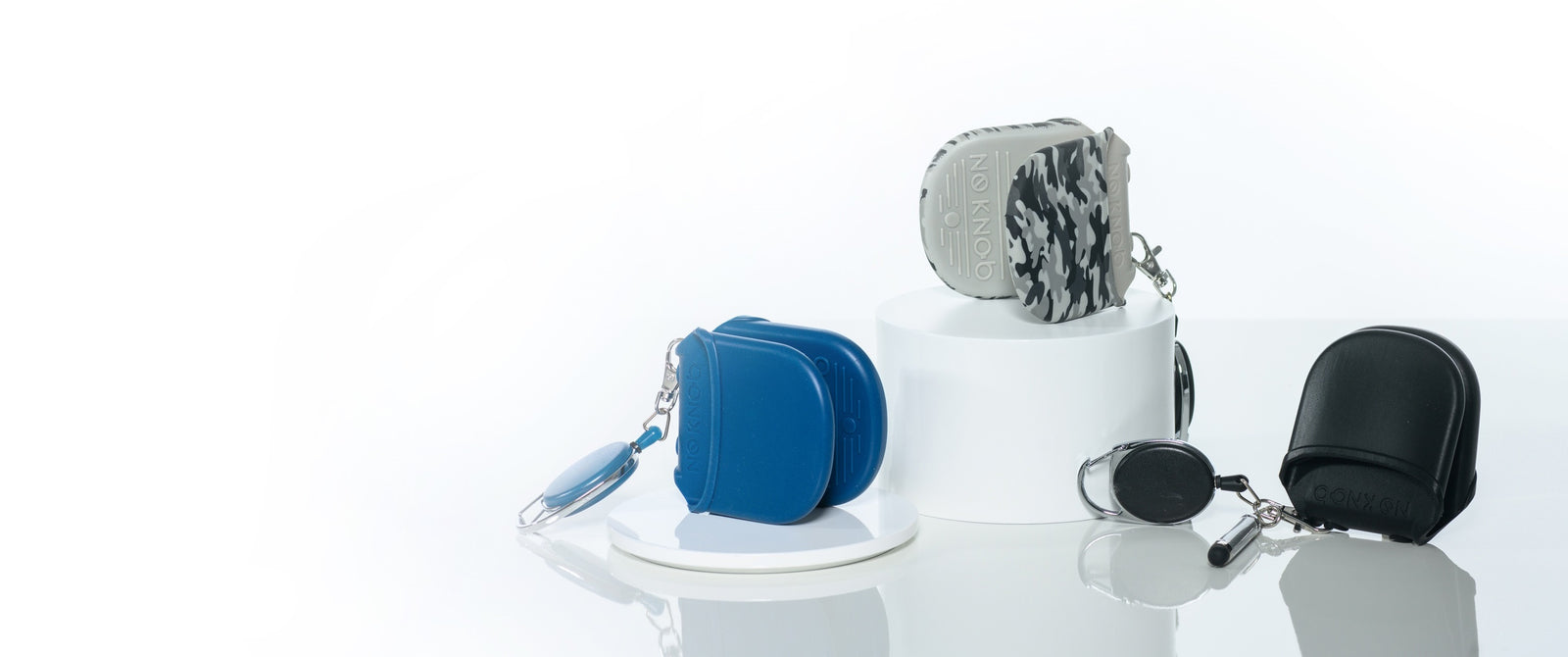 Introducing No Knob™

worry-free contact with everyday surfaces
No Knob™ is an anti-microbial self-closing touch guard that fully protects hands from harmful germs on public surfaces. No Knob™ makes it easier to keep our hands clean and germ-free while on-the-go.
Shop Now
No Knob™ Features
Durable Antimicrobial
Flexible Silicone

Infused with silver ion technology - scientifically proven to stop the growth of bacteria, viruses and fungus

Convenient Retractor
And Clips

Connected to a retractable clip - extends 26 inches for quick and easy access from a belt loop, purse, backpack.

Washable
& Sustainable

Unhook No Knob to disinfect with hot water & soap, antibacterial spray, or in dishwasher; re-usable and waste-free is good for the planet.

Ergonomic
Design

Full finger coverage with a more snug pocket for thumb, embossed ridges add gripping power.

Hand
Friendly

Hypoallergenic, non-toxic, odorless, latex-free - gentle on skin.
Anti-microbial
No Knob TM is infused with the most advanced silver ion technology - to not only stop the growth of bacteria - but also stop fungi and certain viruses. Silver ions stop bacteria from replicating by binding to the cell wall of the germ and disrupting its DNA and ability to divide / grow. It is proven effective against 99.99% of germs.
Kids Love 'Em! Germs Hate 'Em!
Kids And Healthy Habits Go Hand In Hand.
We can keep our noses out of their business, but they can't keep their fingers out of their noses! Let's face it, kids love to touch, poke, pull and grab everything. And even though we teach them healthy habits, it's hard for them to remember. Or resist. The No Knob is a fun and easy way to promote healthy hand hygiene.
Shop Now
Testimonials
NO KNOB™ FEATURES
Ergonomic Design
Full finger coverage with a more snug pocket for thumb, embossed ridges add gripping power
Convenient Retractor & Clip
Connected to a retractable clip - extends 26 inches for quick and easy access from a belt loop, purse, backpack
Hand-Friendly
Hypoallergenic, non-toxic, odorless, latex-free - gentle on skin
Durable & Flexible
Pliable, soft-touch silicone with embossed ridges on gripping surface lasts a lifetime
Antimicrobial Silicone
Infused with silver ion technology - scientifically proven to stop the growth of bacteria, viruses and fungus
Washable & Sustainable
Unhook No Knob to disinfect with hot water & soap, antibacterial spray, or in dishwasher; re-usable and waste-free is good for the planet
Safety in Numbers
We all want to live healthy, happy lives. And we can – by avoiding harmful bacteria and viruses. Knobs, buttons, handles and keypads are covered in germs, which can quickly spread from person to person. By taking simple steps to protect ourselves, we can keep our loved ones and our community healthier and happier.
  - Use a No Knob™ when touching shared surfaces
  - Clean your No Knob™ regularly with anti-bacterial     soap, disinfectant, or in the dishwasher
  - Teach others how to avoid contaminated surfaces
  - Wear a mask in public spaces